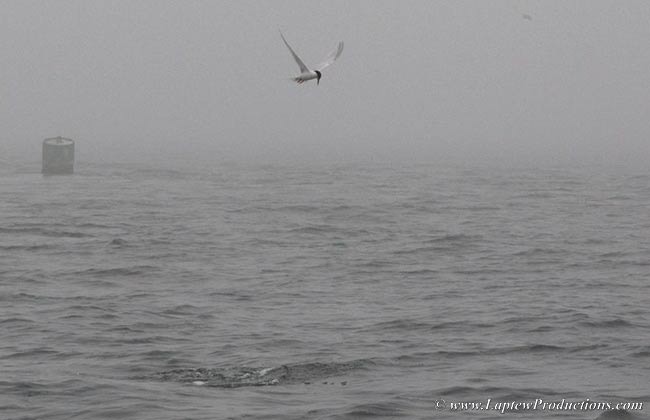 What's better than a microburst of birds, bait and bass materializing right before your eyes?
Your boat is drifting with the current through a fog covered rip line and you hear the high pitch squawking of terns just a few yards away.
Could they be working over a school of fish?
There they are!
Is it just one fish and a couple of birds?
No.  It's going off!
What are they feeding on?
Could it be squid?
It might be bay anchovies.
It's spearing!
Wait, there are some big bass mixed in with the schoolies.
I can see the bass opening their mouths and gulping down the bait.  It's really starting to heat up now.
Wow!  The stripers are coming right out of the water as they suck down a quick meal of spearing.  Awesome!
Just how much bait is down there?
Another big fish just flew out of the water!   This is insane…I've got to get a cast out there.
But, I've got a big pink, squid fly on…what the hell, no time to tie on a smaller fly.  Where are they?
Over there!  The birds are gathering.
Get the boat closer.
I'm on!  He took the squid fly!
If you've ever experienced a similar occurrence, whether alone or with friends, you know the excitement of having a a mini-blitz all to yourself.  It's amazing to watch the dramatic trials of life unfold right before your eyes; the almost irritable timber of the terns squawking, the sounds of tails slapping the water, fish crashing bait, birds diving, and bass flying out of the water…all  happening in your very own room, squared off by a curtain of fog.  And just as quickly as it erupted, it's over.  Even if you can't connect with a fish, the sights and sounds have to arouse your emotions and  leave you in awe.
This entry was posted on Sunday, August 12th, 2012 at 10:05 am
You can follow any responses to this entry through the RSS 2.0 feed.
Tags: bait, bass, fog, silversides, spearing, striped bass, terns
Posted in: Fish, Fishing, Recreational, Saltwater, striped bass